Why aren't homicides charged? Witnesses won't talk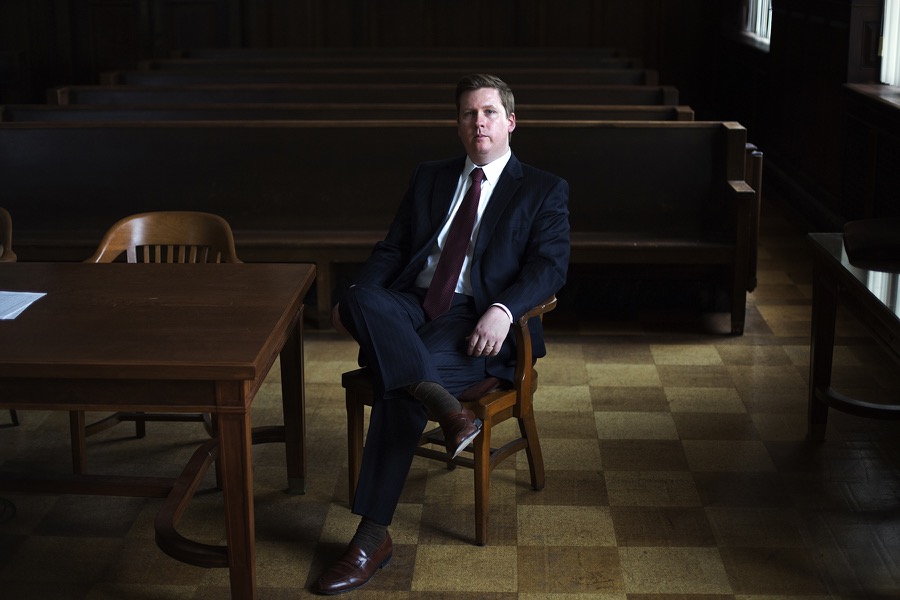 Michael Mahon, an attorney with Missouri's public defender system, poses for a portrait inside a St. Louis courtroom.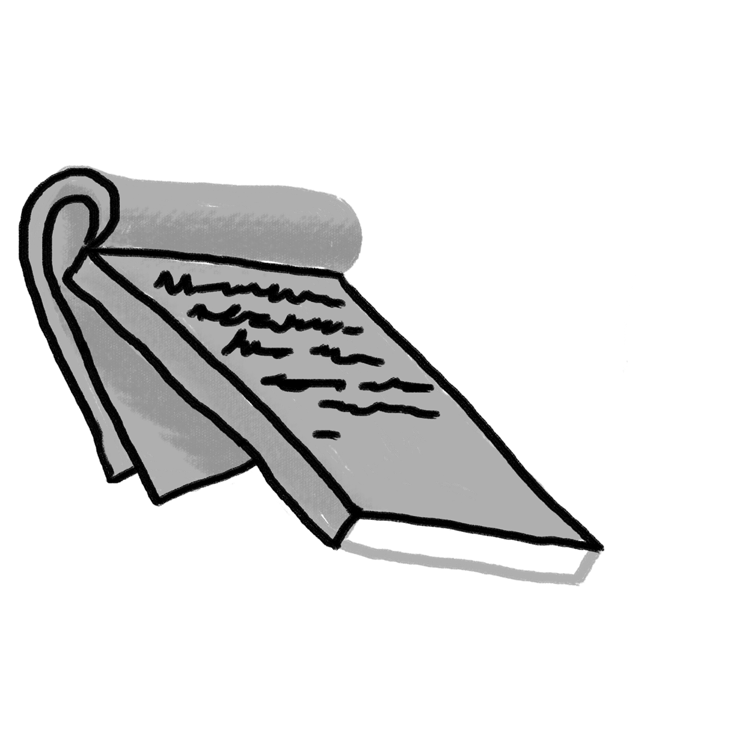 Listen to an audio version of this story
On the Streets
Over 18 years with the St. Louis Metropolitan Police Department, including almost 10 on the beat, Don Re responded to dozens of homicides across the city.
"When you have somebody who's dead, word spreads really fast…"
— Don Re, St. Louis Metropolitan Police Department
Patrol officers are the first on the scene of any homicide call, he said. They're in charge of securing and preserving the scene, keeping a crowd away, looking for shell cases and identifying witnesses and convincing them to stay.
Re patrolled the 6th district, in north St. Louis, for about 18 months before becoming an instructor at the St. Louis Police Academy late last year. It was frustrating to roll into the same neighborhoods several times a week.
"…eventually somebody that you've talked to 100 times — trying to help them — ends up dead…"
— Don Re
"It's a lot of young people that are involved in these violent encounters," he said. "And it's sad because you'll tell somebody, 'if you keep doing such-and-such, you're going to get caught up in this.' And eventually, someone that you've talked to a hundred times, trying to help them, ends up dead."
Lt. John Green, who has spent nearly half of his 25-year career investigating homicides for the department, frequently will also be struck by a sense of déjà vu arriving on scene – except the past actually happened.
"Sometimes it's the same witnesses or participants in some of the murders," he said. "The crimes aren't connected. It's just the neighborhood they're involved in, the life that they lead."
"Here's the weird thing — I don't go by victims' names, I go by locations…"
— Lt. John Green, St. Louis Metropolitan Police Department
As a patrol officer, Green said, your focus is on the initial investigation. His first stint as a homicide detective, in 1998, taught him a lot.
"People lie," he said. "And they lie for all different kinds of reasons. We'll try to get a background on the victim, and they'll say he wasn't into anything."
Green gets it – families don't want to remember their loved one as a bad person. But a lack of cooperation from the families complicates his already difficult job. The 28 detectives under Green's command made arrests in just 63 of the 188 investigations they opened last year, and Green said they could have made a lot more.
How many investigations lead to arrests?
Detectives made arrests in about one third of the 188 investigations they opened last year.
"A lot of them we know who did it, or we suspect, but we just can't prove it," Green said. "Witnesses are what you need. You see on TV, you get a guy caught with a smoking gun. You need more than that. You need somebody who saw the incident, saw him shoot or overheard him talking about it."
It's a brick wall that blocks the entire investigative process.
"The No. 1 reason we can't issue a homicide charge is a lack of witness participation," said Mary Pat Carl, the lead homicide prosecutor for St. Louis and a Democratic candidate for circuit attorney. She is in charge of reviewing every homicide case issued by the office.
Over the last five years, prosecutors have charged an average of 57 people a year with murder. The circuit attorney's office includes voluntary and involuntary manslaughter cases in their count, while police only include first- and second-degree murder charges, so the numbers will never match up completely.
"There is nothing…worse than calling that family at that moment."
— Mary Pat Carl, lead homicide prosecutor for the city of St. Louis
"It's frustrating for everybody to know that you likely have the right person, that you're that close to being able to issue charges on someone, and hold them accountable, and you can't get it across the goal line," Carl said.
But there's no statute of limitations. Green can make an arrest 10 years later, and if it's supported by evidence, Carl will issue an indictment.
Witnesses don't like to talk to defense attorneys either, said Annette Llewellyn, a veteran public defender.
"You have an address, and you know this is right in the heart of what happened, and someone lives there, and you leave a card, and they just don't respond," she said.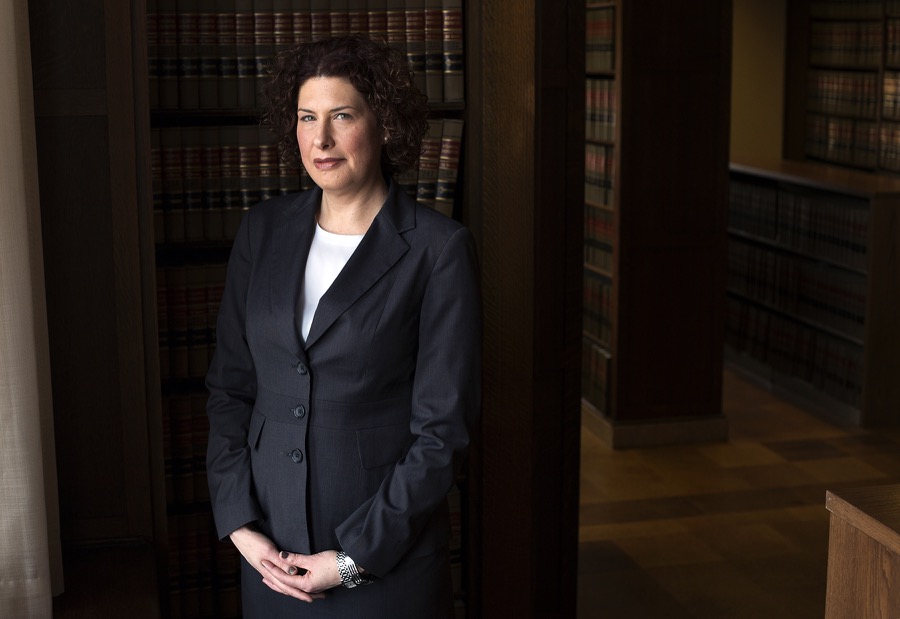 Mary Pat Carl, lead homicide prosecutor for St. Louis city, poses for a portrait at the Civil Courts Building law library.
In the Courtroom
In Missouri, prosecutors have 24 hours after an arrest to evaluate a case, file a criminal complaint and get a defendant in front of a judge for a bond hearing. After that initial flurry, the pace slows down just a bit.
From start to finish, a homicide trial can take 18 months or more. Some defendants plead out, but a decent number go to trial.
"To try a homicide case is one of the most nerve-wracking but also exhilarating experiences," said Carl. "You're up against the best defense counsel."
"A true defense is not just 'poking holes,'" said Llewellyn, who has tried homicide cases for a decade. "I try to take my lead from my client. You can read the discovery, and you can get a feel of what the defense is, but depending on what the client says, that's the goal."
Trial preparation is an all-consuming experience for the attorneys involved.
"You live day in, day out with this case," Llewellyn said. "It's the hardest when you have a client who just completely maintains their innocence, and you know there are 12 people who are going to decide his or her fate, and you're doing the best that you can."
"You're booking somebody for murder, and they're going away for the rest of their life: You'd better be right."
— John Green
For Carl, a guilty verdict means a brief moment of relief.
"God, especially in a homicide case, I've never felt a moment that is a moment of celebration," she said."There's a life still gone, and a life that's now facing a life in prison."
Defense attorneys like Llewellyn and her colleague, Mike Mahon, immediately start thinking about the appeals process.
It's not just about technicalities, Mahon said. Defense attorneys aren't trying to get "criminals" out of jail.
"There is no verdict that's going to heal a broken heart."
— Mary Pat Carl
"We're representing people," he said. "And there's a lot going on in each of these people's lives. There's poverty, a lack of education, mental-health issues, drug problems. Sometimes it's a much broader thing we're trying to fix."
Don Re witnessed that all the time patrolling the streets of St. Louis.
"You have neighborhoods out there with no hope," he said. "They don't expect to see 30 years old. They have seen their friends shot and killed and their kids."
"We're dealing with something much bigger than just trying to let "guilty" people go free."
— Mike Mahon, defense attorney
He had this advice for the police recruits he now teaches.
"If you ever don't feel something for the person, that's not good," Re said. "He's got a mother. Someone loved him at some point. It's not the victim that I'm sorry for. It's the people left behind."