The sound of the wedding bells that rang on June 25, 2014, will forever reverberate throughout the legacy of St. Louis Mayor Francis Slay.
On that day, Slay defied Missouri's constitution by sanctioning the legal marriages of four same-sex couples. His decision cemented an already firm relationship with the LGBTQ community.
While many applaud Slay's bold move and big presence in the community, some say he could have more fully embraced people who are transgender and the issues these residents face.
People who are transgender can be especially vulnerable to unemployment and often, as a result, housing insecurity. In this episode, we examine two related components of Slay's legacy: LGBTQ issues and homelessness.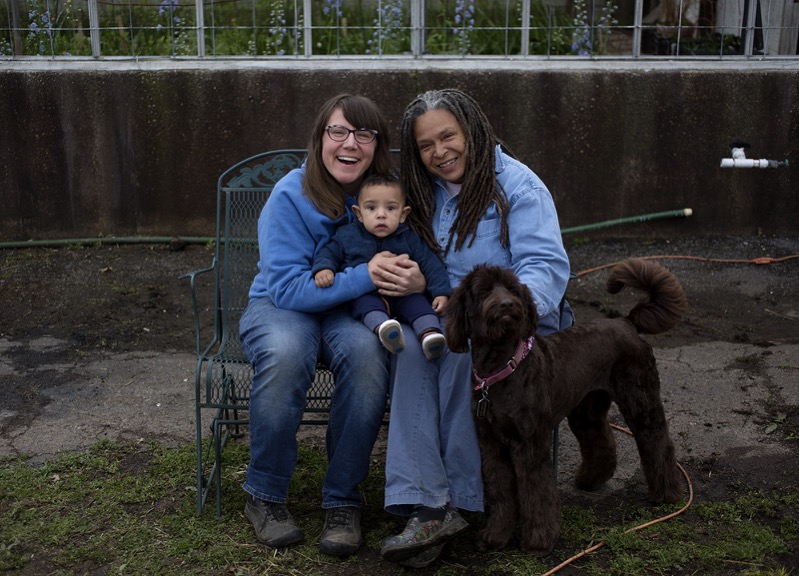 Carolina Hidalgo | St. Louis Public Radio
Mimo Davis and Miranda Dushack with their 9-month-old son, August. Back in June 2014, the couple had eight hours to decide if they wanted to participate in a marriage ceremony at St. Louis City Hall. They said "yes," but the rushed choice involved making another life-changing decision: whether or not to come out.
Nancy Fowler | St. Louis Public Radio
---
Rue De La Vie
Watch John Durnell and Richard Eaton in this video from their June 25, 2014, wedding day. They'd been together 39 years before they had this chance to marry: "We never expected to do this," Eaton said.
Vital Voice covers Slay's first year
The Vital Voice
The cover and inside pages of an April 2002 Vital Voice newspaper article published one year after Mayor Slay first took office. In the interview, Slay told reporter Colin Murphy he wasn't sure about what was then called "gay marriage." "I don't know exactly what that means," Slay told Murphy.
Slay didn't just stand behind same sex marriage. In 2009, he supported federal laws for stricter hate crimes statutes that included gender identity. A year later, the mayor added gender identity to the list of protected categories in housing, public accommodations and employment in the city of St. Louis.
More at stake than marriage equality
Mayor Francis Slay and his administration have been praised for fostering St. Louis' reputation as one of the queerest cities in America. Though some advocates say he could have gone farther to alleviate issues that disproportionately affect LGBTQ communities — including housing insecurity and homelessness.
The most complete and accessible numbers on LGBTQ homelessness come from a UCLA think-tank called the Williams Institute — though the focus is on youth. In 2012 the institute found that 30 percent of young people being served by housing programs and street outreach programs identified as LGBTQ.
Outside of that, there's not a lot of data on homelessness in among LGBTQ adult — either nationally, or in St. Louis. Though advocates who work with people who are homeless in St. Louis say they have plenty of anecdotal evidence that LGBTQ communities have higher rates of housing insecurity, and less access to support services. A study by the Center for American Progress found that among homeless shelters studied across the United States 30 percent would house a transgender woman based on her gender identity.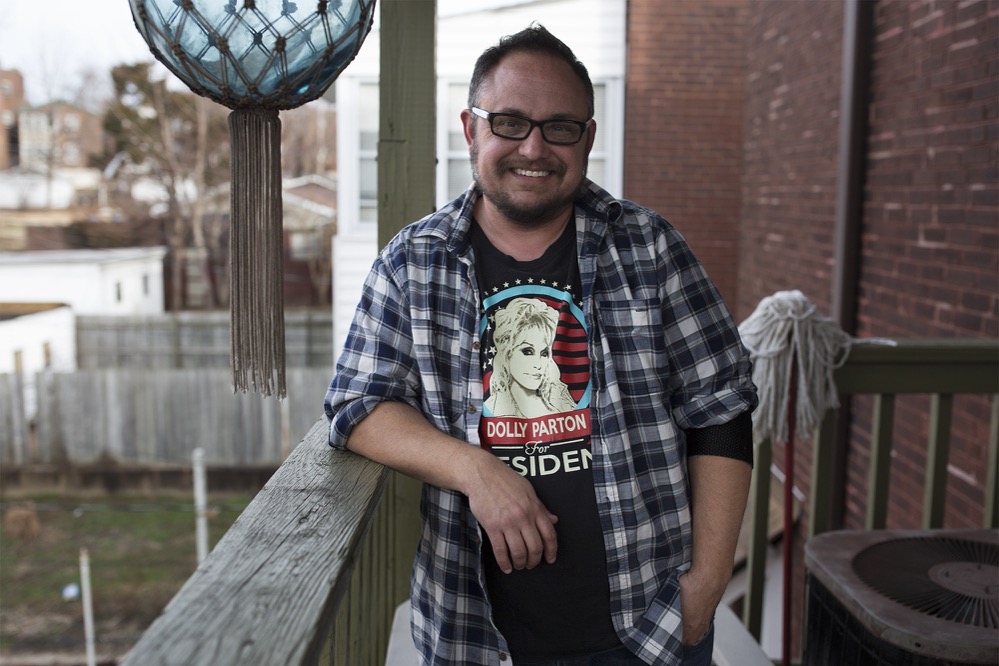 Sayer Johnson is a founder and executive director of the Metro Trans Umbrella Group, which connects transgender St. Louisans with medical services, support groups and other local resources. Unsatisfied with the city's efforts to serve LGBTQ people who are homeless, Johnson dedicated a property he owns to providing affordable housing, naming it the Trans Queer Flat.
Visibility is great, visibility is necessary and it's beautiful and it's empowering — visibility doesn't get my folks jobs necessarily, or housing, or health care.
---
As far as I'm concerned [he's] just been totally absent. Slay just stays out of the fray. I don't know where he is, I don't know where he's been, I don't know what he's done except cater to the central corridor.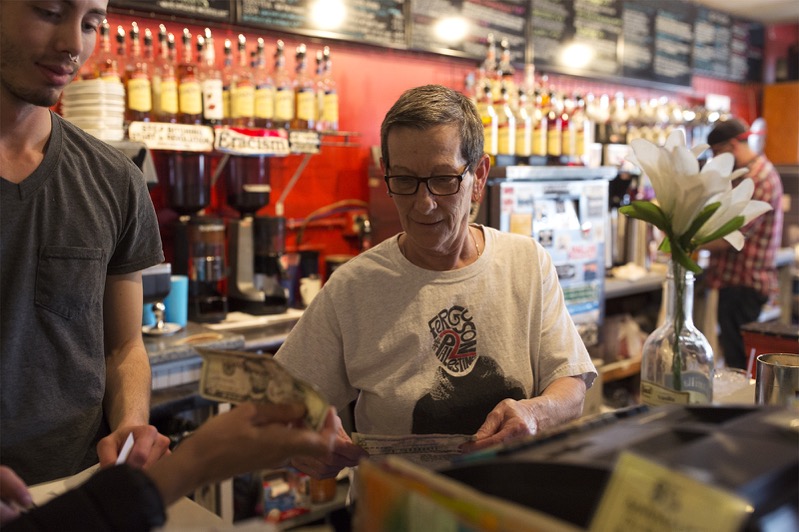 Mo Costello is the owner of MoKabe's Coffeehouse and a long-time volunteer with Winter Outreach. The entirely volunteer-run operation helps people on the streets during extreme weather conditions. Costello says trans women are the most vulnerable population that she works with because they often can't find emergency shelter that respects their gender identity.
Carolina Hidalgo | St. Louis Public Radio
The 10-Year Plan
St. Louis has been unable to solve housing insecurity and homelessness in general — much less focus on one especially vulnerable population. One failure to eradicate homelessness started in August 2005 with the implementation of a joint effort by St. Louis and St. Louis County that would come to mark Slay's tenure as mayor: The 10-Year Plan to End Chronic Homelessness.
The plan's title is self-explanatory. Following a national model, St. Louis and St. Louis County administrations worked with local agencies and advocates serving homeless St. Louisans to create the plan to end chronic homelessness. It aimed to creating more permanent housing and offer support services that people facing chronic homelessness often need.
But if the goal was to end all chronic homelessness in St. Louis — the 10-Year Plan failed. Rates of chronic homelessness (and general homelessness) didn't budge over the decade that the plan was in place.
Homelessness in the St. Louis region
Loading...
In 2016, Laurie Phillips, St. Patrick Center CEO, told St. Louis Public Radio that the city shouldn't have an issue with homelessness. The St. Patrick Center helped develop and execute the 10-year plan. "For a community our size, this is a solvable problem," Phillips said. "We're not a New York City, we're not a San Francisco. We don't have tens of thousands of people who find themselves homeless."
Slay's defense
Mayor Slay has repeatedly defended the plan, saying it was trying to solve what is really a regional problem. Speaking on St. Louis on the Air in 2016, Slay said:
Slay and his supporters also point out that between 2005 and 2015, the plan weathered the storm of a national recession.
Advocates and service providers who helped create and implement the plan say it was too ambitious from the start. Tom Burnham was a shelter manager with Peter and Paul's Community Services for decades. It's one of the nonprofit agencies that helped craft the 10-year plan. He says the plan focused too heavily on buildings and housing units over the other services like substance abuse or mental health counseling.
That said, one of the plan's successes was that it called at least 700 more designated beds and housing units for the chronically homeless between the city and the county.
The Salvation Army was also a part of St. Louis and St. Louis County's network of homeless service agencies when the 10-year plan was adopted. Kimberly Beck, regional director, agreed that it was presumptuous to believe the plan could completely eradicate chronic homelessness in the region.
"There's a scripture that says the poor will always be among you," Beck said. "I just realize there are some that are going to choose homelessness. Even if there is a house for them to stay in, if they don't want it, you can't force them to go in."
Changing course
"The likelihood is there will always be a level of chronic homelessness," Slay told St. Louis Public Radio in 2016. "But we have not given up on the possibility of ending it."
In the last few years, the city (and the national model it follows) has changed tactics for addressing homelessness.
St. Louis has expanded it's support for walk-in shelters — the kind of place people go when they need a bed for the night. In 2016, the city opened the Biddle Housing and Opportunities Center. By day, it's a place people can go to get a warm meal and connect to a network of services. By night, it's a men's shelter — the first owned by the city.
Instead of focusing on the chronically homeless, resources have been redirected to prevent St. Louisans from becoming homeless in the first place. A new "rapid re-housing" model targets those with less extreme needs, offering things like a few month's rent, utility payments, and credit counseling.
But the jury is still out on Biddle House. It hasn't been open long enough to see if homelessness in St. Louis is decreasing — though advocates like Costello, Johnson, Beck, and Burnham are watching closely.